Introduction
MMG is a gateway that converts normal mig33 client into powerful multi mig33 client, after connecting to this gateway you can get various new features like multikicking, autoleave and various other useful features in your normal mig33 client. You can get all these powers on your normal mig on your mobile phone. You don't need any external software. You only need a mig33 client (Any version) and thats all.
Client means mig33 jar file.
How MMG works?
First your mig33 client is connected to MMG server then MMG server establishes a connection to mig33 and connects you to the mig33. this way it works likes a gateway between you and mig33. Everything that you write in your mig33 application is first sent to mmg server then mmg server send it to mig33. same way all incoming data is routed via mmg server. mmg manipulates data packets and provide you various new and exciting features that a normal mig client does not provide without mmg.
MMG Features:
Fastest ever kicking with your favorite version of mig33 at your mobile
Multi set is handled at server side so very very low data consumption
Fastest ever autoleave
No need any 3rd party application
Safe and secure because mig33 client never send password in plain text, so mmg(or any 3rd person) cannot see your passwords
Only 1 time setup of IP and PORT and that will work forever
Single command login, join, leave, kick etc
Mix multi feature is available
You can save and load multi set easily with load and save commands
Enable or disable multi kicking
More features like virtual rooms with free multikicking might be added later
Additional feature might be added on demand Request more features.[i]( Add me at mig33 : cutting_edge_)
MMG Tutorial:
REQUIREMENTS:
1) Any version of mig33
2) A multi set having digits 1 to 10 in the end (mmg1 , mmg2,....mmg10)
3) An ID registered at MMG server , use this link Buy mmg to register your ID
4) MMG IP and PORT (You will get IP and PORT after you register your ID)
Connect to mig33:
Open any version of mig33 e,g 3.02lite & goto connection setting.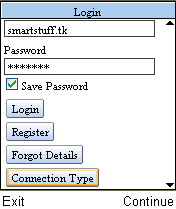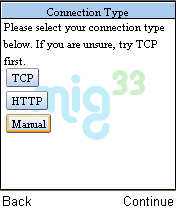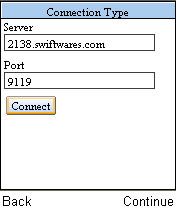 That's what you need to connect MMG kicking tool.
How to login LOGIN MULTISET
Join any room and write login command in room, here is the login command.
login command: .log multi_set_without_last_integer multi_password
If your multi set is gateway1 to gatway10 and password of multiset is 123123 then
login command would be: .log gateway 123123
http://www.swiftwares.com/images/13.png"
border="0">
You will have POP-UP message your multi logged in.
Than command to join: join command is .j & .l
Note: although this command is written in chat room but other users would not be able to see it. However all commands start with DOT > . < src="http://www.swiftwares.com/images/14.png" border="0">
Room flood: .f write_flood_text_here, this command will flood the flood_text
Private flood: .pf write_flood_text (will avail soon) pvt_target , this command will flood in private
Multi Dc: .dc this command disconnects your multi set.
How to register/buy your ID at this gateway?
You may contact me at mig33. My mig33 ID is "cutting_edge_"
Price:
30 USD mig credit for the period of 3 months. (Or 25 USD cash)
45 USD mig credit for the period of 6 months (Or 30 USD cash)
You will get additional discounts if you register more than 1 IDs , contact MMG merchants for details.
3rd party mig33 forum admins can contact us for free registration(conditions applied)
(Prices seem to be high but we have to pay hundreds of dollars per month for running MMG server and managing multiple IPs)
Note: Your ID will be registered instantly after successful payment.
With Regards,
Cutting_edge_
3D_sw0rd wrote:
Never tested.. but like it.. check it if you like |-)
To Moderators:
If wanna put this post in [Mig33 Mobile Tools] section then please do it for me
Stay Good... Be Blessed..